San antonio may be the last stop for That Old, Weird America: Folk Styles in American Art, and San antonio is lucky to have it. As
art museums hunker lower with lengthy runs for exhibits featuring objects using their
collections, less shows travel. When the recession has ended,
nobody told the skill world.
That Old, Weird America could be welcome anytime. Organized by Candice Kamps, senior curator in the Contemporary Arts Museum Houston, the exhibit opened up in Houston in May, 2008, and debuted in the Frye Art Museum on Saturday, before Thanksgiving.
An evaluation follows but because of the season, I'd prefer to consider individually Mike Durant's Pilgrims and Indians, Planting and Reaping, Learning and Teaching. Its revolving-stage, dual dioramas invite the crowd to look at who's weirder: individuals who insist upon a fictionalized form of American history or individuals who dispute it.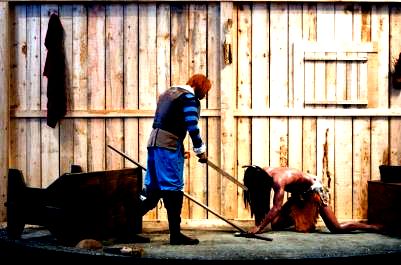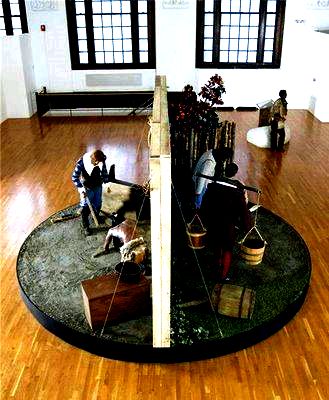 Durant purchased the dioramas in the defunct Plymouth National Wax Museum in Massachusetts. Initially, the museum displayed the accurate form of Thanksgiving's origins: After Pequot Indian Pecksuot insulted Captain Myles Standish, Standish travelled right into a rage and wiped out him. Fearing retribution from Pecksuot's tribe, Standish organized a raiding party and easily wiped the Indians camped nearby. Afterward, settlers celebrated their win by declaring a nationwide day's thanksgiving.
Through the years, the storyline changed into its opposite: Pilgrims breaking not bones but bread using the land's original occupants.
The factual diorama was removed after customer complaints within the 1970s, departing the storyline we all know very well.
Reviewing the show for that Boston Globe, its art critic Sebastian Smee trotted the usual insults for anybody questioning an expert narrative from America the gorgeous. Smee bemoaned the inclusion of:
familiar types of patronizing "identity art" – art that addresses, in
probably the most dutiful, box-ticking ways, the familiar tropes of exclusion
and wrongdoing.
(Two familiars in a single sentence? Most likely the Globe no more deserves its status for excellent editors. I additionally note with dismay Smee's lead, which without valid reason is incorporated in the passive voice. Had he desired to leave a snail's trail of inertia across his copy, passive would serve him. Otherwise, not. )
To Smee:
I'm thinking, for example, of Mike Durant's two existence-size dioramas that
suggest alternative interpretations from the first Thanksgiving. The
dioramas are positioned on a circular platform, divided in two, that
gradually revolves. One for reds shows a local American teaching a pilgrim
how you can grow corn (with the aid of a hidden sardines) another shows
Captain Myles Standish beating to dying the Pequot Indian Pecksuot,
which, the catalog informs us, brought to some raid around the Pequots and
subsequent celebration.
Durant purchased both displays in the defunct Plymouth National Wax
Museum in Massachusetts. But as to the finish? The job he's produced from
them is really as didactic and kitsch because the originals, also it isn't saved
from being so through the artist's ironic know-ingness.
American exceptionalism means Americans never need to say they're sorry.
Smee fell in to the trap of reviewing the topic, and not the art. I do not mean to suggest the trap is simple to prevent. Personally, I'm relieved to determine precision sneaking into American history by means of art or other way, if perhaps because a lot of American myths are located there and fuel attitudes that hamper progressive change.
In reacting to Durant, I must consider whether I'm Smee's twin, answering what art states instead of what it's. But It is exactly what it must be, an appropriation of frozen moments he takes hold motion, fact and fantasy as each other's form and every other's shadow.
Resourse: http://artsjournal.com/anotherbb/2009/10/
3000 Bouncy Ball Trampoline CHALLENGE against SAM & NIA
COMMENTS:
J House Vlogs: Make sure to go over to Sam and Nia and show them some J House Love! but you can use #TeamJHouse to talk a little trash 🙂 https://youtu.be/KZikZfWRRgU
Ava Kelly: J House Vlogs #teamjhouse
Michelle Newson: i think that sam and nia
Sam and Nia: Haha! Hilarious guys!! Thanks for taking us up on the challenge! Awesome video!
Wintercatr1: I love you guys so moch Sam and nia
Reggie johnson sr: Sam and Nia like it
Zoe Onyango: Abram had 3 \nCaleb had 4\nSymphony had 25\nElise had 28\nNia had 47\nIsacc had 10\nSam had 76\nJeremy had 59\n\nThank me later 
Widya Nandita: Zoe Onyango it's a tie\nBtw thank you
Kristi Miller: think me later ya right as in later we will think you in 2085
This Little Critic: That is so cool but they look painful to land on.
Keearahccx5 A: I love your videos
This Little Critic: Keearah Antle Me? My videos?
Joshua the beast Yoon: Came here from Sam and Nia and I already love it
Lena De Gaz: same
Lily Hansen: Joshua Yoon sameeeeeee
Emily friedman: I have an idea for school work! You could write words on the bouncy balls then Elise would have to try to collect them and then read the words and explain if it's a long or short vowel
Happydayz 1009: Emily friedman ya
Juliet Perry: HERE ARE THE WINNERS\nSam-76\nCaleb-4\nNia-47\nElise-28
Simone Cooper: I was the 200,000th like
Courtney Coppersmith: Roses are red\nViolets are blue\nI love you\nSo do you