That Old, Weird America: Folk Styles in Contemporary Art, in the Contemporary Arts Museum, Houston, through This summer 20, 2008, bills itself as "the first museum exhibition look around the prevalent resurgence of people imagery and history in American contemporary art." Possibly a much better exhibition title could have been That Old, Haunted America.* The exhibition comes complete with phantoms, from Cynthia Norton's whirling, bodiless red and white-colored dresses in Dancing Squared (2004) to a minimum of twenty apparitions of Abraham Lincoln subsequently in Barnaby Furnas's Civil War works of art and Greta Pratt's photos. Dario Robleto's funereal The Pause Grew to become Permanence (2005-2006) materializes war's vast time-span by memorializing the first twenty-first century deaths from the last three Civil War widows. Jeremy Blake's video Winchester (2002) floods the celebrated Mystery House in San Jose, California, with luminous ghosts, a number of them equipped with rifles. Both Blake and Margaret Kilgallen are artists that died way too youthful, and also the inclusion of the work increases the exhibition's haunted atmosphere.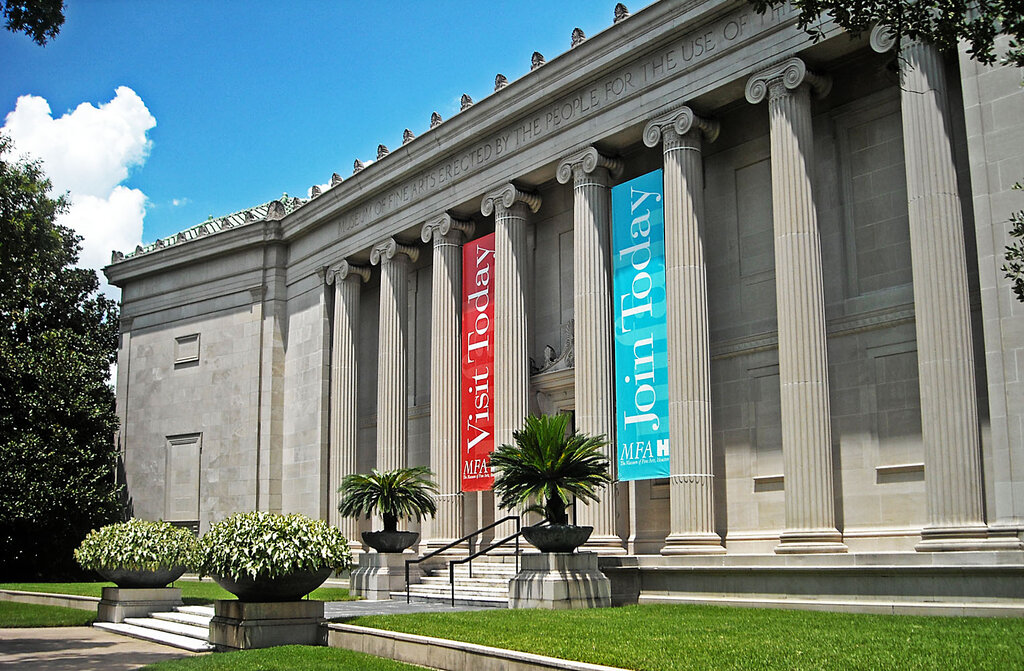 Ghosts in the founding traumas of slavery, Civil War schisms and wars against Indigenous Peoples loom large within the works introduced together by curator Candice Kamps. Kara Walker's 8 Possible Beginnings or: The development of an African-America (2005), a movie of shadow puppets, unrolls as an old Disney cartoon's repressed hopes for menacing racial desires. Additionally, because of the show's titular mention of old folk music scavenged by Bob Dylan, Walker's soundtrack of tickly string band tunes offers an apt audio presence inside the exhibition. Mike Durant's gradually revolving, two-faced diorama, Pilgrims and Indians, Planting and Reaping, Learning and Teaching (2006), recreates Thanksgiving's happy myth/genocidal truth from wax figures, fittingly salvaged in the obsolete Plymouth National Wax Museum. The whole shebang of Master and Durant, together with Aaron Morse's works of art of Westward expansion and Kaira Kuhlhamer's sketches of bloody battlefields, develop an anti-nostalgic history landscapes, humans, and creatures alike have gone through brutal, supernatural transformations: America as Mystery House, populated by restless phantoms.
The antic good reputation for American appearance, which will come giggling from circus sideshows, roadside attractions, Old West shows and so on, sometimes lightens the exhibition's haunted feel. Entering the exhibition, you're faced by Durants' wax figure tableau and Kilgallen's installing of a ramshackle streetscape, Primary Drag (2001) it feels similar to entering a vintage amusement park or halfway, particularly with Kilgallen's hands-colored signs. Circus imagery jaunts through both cotton elves in Walker's film and also the uniforms worn through the queer Civil War Zouave soldiers in Allison Smith's work. Matthew Day Jackson's fake taxidermy faeries near David McDermott & Peter McGough's damaged urn, Bay Area Earthquake Box 1906 (1988), transform the corner from the exhibition into a kind of cent museum. However the haunting appearance of trauma trump the appearance of old, weird entertainment within the exhibition, suggesting that "folk styles in contemporary art" tend to be more worried about confronting ghosts than trying out bizarre spectacles.

By gathering artworks together within "folk theme," the exhibition evokes the threat of folk/vernacular/outsider/self-trained art worlds that authenticate "contemporary art" through their categorical exclusion (and the other way around). Artworks like individuals displayed within the John Michael Kohler Arts Center's 2007 exhibition Sublime Spaces & Visionary Worlds hover round the exhibition inside a timeless united nations-contemporary. Within The Old, Weird America, contemporary art is fortunate to see this residual realm of the folk without having to be downscaled to folk art as a result. Art environments such as the Flower Man's house, the Orange Show, yet others you may uncover "wandering that old, weird America" looking for "visionary places and spaces,"** beg questions regarding who will get to become contemporary and who stays folk within the landscape of galleries, museums and houses haunted by artwork.
Possibly the lurking spirits of people art objects are most clearly channeled by Kahlhamer's Dolls, made from the artist's hair, rusty nails and scraps of leather and wood. Of all of the works within the exhibition, these look probab the united nations-contemporary folk art you'd imagine finding in somebody's yard or family room or perhaps in the Kohler's Sublime Spaces & Visionary Worlds. The dolls are jailed inside a chicken pen, not even close to Kahlhamer's creates paper, a separation that regrettably dampens the menace the bloody sketches might lend the lovable fetishes. Searching in the dolls, a skill-goer remarked, "they should be either caged like this or put alongside a candle and worshipped." Because of the exhibition, they become concurrently secured within the duration of the contemporary and worshipped for his or her residual, resurgent folk spirit.
* Didn't I warn you about being haunted by our Ghosts exhibition within my last feature for …might be great?

** Quotation from Erika Doss, "Wandering that old, Weird America: Poetic Musings and Pilgrimage Perspectives on Vernacular Art Environments" in Sublimes Spaces & Visionary Worlds: Build Environments of Vernacular Artists, edited by Leslie Umberger (New You are able to: Princeton Architectural Curr Sheboygan: John Michael Kohler Arts Center, 2007), 24-45.
Scott Webel is really a Ph.D. student within the Folkore/Public Culture program in the College of Texas at Austin. With Jen Hirt, he co-curates Austin's Museum of Natural & Artificial Ephemerata.
Resourse: http://fluentcollab.org/mbg/index.php/reviews/review/101/
Imelda May – It's Good To Be Alive
COMMENTS:
Mr54nomore: What a great take on "The Bride Of Frankenstein" done originally by Elsa Lanchester and Boris Karloff. Imelda May can do no wrong. Brilliant!
Skitzobilly: +Pauline Ugbome Paulaner.
Felipe García: Shit up
sennikram: I am a misserable old punk rocker with a bad attitude and hate every body, but this song is fucking great, I feel happy for once, fucking hell.
Timeree Aden: OMG. I kind am so in love with this video.
Timeree Aden: Love this video n song!
JiveDadson: Compression sucks the life out of good music.
Plan7banda: +Philip Meredith sALUDOS DESDE CHILE , LATIN ROCKERS! BY PLAN 7 BAND
Paul Slifkin: this woman is overall amazingly talented! beautiful voice, style, class, and damn is she sexy as hell
Fly In The Freedom: Beautiful woman has amazing voice. Rockabilly will never die!
Richard Faust: Bride of Frankenstein! This is hilarious. The only female vocalist that matters is Imelda May. Over and out.
Manuel Colunga-Hernandez: I love this woman's voice… and she has style! I like her a lot!..
Anita Zenobia: +Manuel Colunga-Hernandez I agree 100%!
The Peace Project: I just recently "discovered" Imelda May. She's great! I love her voice and the type of music she chooses to do.
Mac Haggis: She is cool, nice, classy af, incredibly hot and an amazing performer! Dublins finest and a peg o' my heart 🙂
Emma K: My names EMMA KILPATRICK
Jennifer Fortier: Nice…I am all smiles! I love it. Imelda is so awesome. Very talented! Rock on. Peace
Jaapweetraad: pinkpop send me
Carl M. Nielsen: It's REALLY good to be alive, when you can listen to Imelda May! 🙂
Dark-Master A.Z.: a ray of light in a sea of pop!