Greetings
Thanks for visiting the gypsy of fortunes
Your gold coin was greatly appreciated
And today I shall grant you your future
It appears my cards of tarot have worked a very odd hands
A hands of six jokers card, this is extremely rare
And suggest something neusant is approaching
You ought to be visited with a dark circus
A circus that holds discomfort and anguish
This travelling mass of evil leaves you corpse to rot
While entrapping your soul to displayed at future stops
Indeed, it's also wise to remember that it's your own evil doings
Which have introduced relating to this carnival's visit
All the sins and hate you've cast on your existence
Have whipped and spun into form, the type of one
One that leads this nasty parade of discomfort to your existence
One sinister animal, one known only as RINGMASTER
Welcome as well as gentlemen towards the museum, the wax museum
A large number of dead souls covered in wax
All the rare exhibits you're going to encounter
Are strange and wonderous creations from the one and also the only
Leader of all of them
So both dead and undead please welcome the R-r-r-ringmaster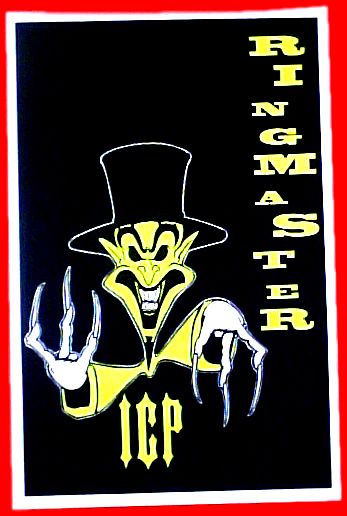 "Purpose, question, kill"
The ICP is from the Ringmaster
And also the Ringmaster's from the attutes of mankind
G-ya, motherfucker, you now gotta face your worst enemy
And that is yourself
Every wicked factor you have ever done
Originates back now
And it is gonna whip your little ass, bitchboy
Us, we are just clowns
We simply work with the Ringmaster
Using the wave of his magic wand
I advance, wind back
And swing this fight axe
Upside your motherfucking mind
Hoooo!!!
So step up make the R-r-r-ringmaster
Goes around the ride of the existence
Horror and fear, smiles and tears
And oh everso exaggerate
The Ringmaster increases up and lifts over the sky
With the forest and lower the forest
Across the valley, past their prime
And lower the path or more the pavement
Simply to surprise you and also yours
At the very door
Let us go, motherfuckers!!!
Resourse: http://azlyrics.com/lyrics/insaneclownposse/
Behind the Paint – Insane Clown Posse – Lyrics
COMMENTS:
Jamie Cupp: I feel this word for word. I was a juggalo before the word was ever even thought of. I was fat as a kid and assholes called me titties. I discovered the dark carnival and was inspired deeply. Found other juggalos around me. Then once I got into shape and became a true ninja then I left my impression on the fools who picked on me by whooping their stupid ass's one by one until bitches started show in some respect. I hope every one of them reads this and wants to come back for more! Thank u soo much Jo and joey. And the carnival. I owe u guys my life for your messages and inspiration. Much clown love to all! Al. Quimby
Sylvia Rogers: yep pretty much sums it up for how my childhood was I'm so glad I found my juggalo family i don't know where I'd be without y'all mmfwcl whoop whoop
Spartan Heart: one of the best.
Mr_ Flight1586: Shady aftermath all day… But this song is sick!!!
skitzo ego: I miss there old music like this
Travis King: Love this song would love to see them do it live whoop whoop
DerrickJMitchell: someone who does not even know who ICP is can be a juggalo, those who don't Like Icp can bea juggalo.
Aisha Freelove: this is my favorite song of theirs.
Noah Fisher: This song really hits home for people who grew up like this. Maybe not same but like it. I come back to it every once in a while.
Daniel Harvey: i love the lyrics from people outside of the hood. maybe even just outside detroit. said asked out my brody said assed out.
Amanda Murphy: by the way this is Timmothy Amanda's bf
Amanda Murphy: basically me so far to all if the family that has went thru the same whoop-whoop.
Heff Salin: What albums this on
kyle hux: Heff Salin bizzar/bizaar
Heff Salin: Mfcl
Kimmo Laine: Look beneath the paint, bitch.
BUCKET JR. Slusher: my life….
James Dunnell: I lived like this since I was a kid this song hits home in so many ways now I see the ones that picked on me and I rub it in there face that I'm doing alot better then them Carma is a bitch and y'all got what was comeing
Gryff Raven: Grew up the same way
D Bilz: this is the song that made me start making music